Smart Electric Balance Bike 14 One Wheel Best Electric Unicycle for Beginner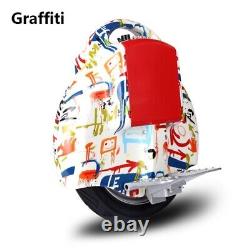 Smart Adult Electric Balance Bike 14 One Wheel Electric Unicycle Best Electric Unicycle for Beginner. This brand new self-balancing electric unicycle scooter was designed and originated in China. The unicycle intelligent system balances you automatically.
The on-board gyroscopes and inertial monitoring make corrections to the motor speed and power hundreds of times per second. On-board electric unicycle scooter is the latest high-tech means of transport adopting aerospace attitude control theory, fuzzy algorithm, and gyroscope system to achieve balance by forward and backward leaning.
Users can control the vehicle to go forward, accelerate, decelerate, brake or others, by inclining forward or leaning backwards. You may just need one hour to learn how to control and ride it, one day to fall in love with it, enjoying your wheel! Colours: Ivory, Black, Lightning black, Graffiti, Street dance, Flame red. Battery: 134WH Lithium Battery(Protection circuit with equilibrium function).
Motor: 350w, 14 hour pneumatic tyres. Actual size of product: 45635cm.
Outer package size: 55.524.545.5cm. Features: speed limit protection, low battery protection, anti-reverse pedal.
Place Electric Unicycle Scooter on the ground and turn on power. Power and Battery Level LED will illuminate and buzzer will beep, then the vehicle is ready to use. If Electric Unicycle Scooter tilts either forward or backwards after power is switched on, then wait until it reverts to upright position before riding. A four-bar LED indicator is used to indicate battery level.
All four will light up when power level is more than 85% and will go off one by one as the level decreases. Please check power level before usage to ensure there is enough power for the return trip.
You may want to charge it every time after use. When power level is lower than 10%, all four lights will flicker and the buzzer will sound off. The front part of the treadle will lower itself to force you to decelerate and eventually stop. Please do not restart when this occurs to avoid any accidents. Sustained range will decrease during winter.
This is because the battery performance decreases quickly in cold conditions. For example, battery performance is only about half in comparison to that in room temperature.
To prevent injuries caused by speed, this electric unicycle scooter comes with a speed control design. When speed exceeds 10km/h, the front part of the treadle will rise slowly; when the speed exceeds 16km/h, the treadle will rise to a 10° angle, to preventyou from inclining forward to further accelerate. As the speed decreases, the angle of the treadle will also lower itself.
NOTE: When the speed is about to reach its limit, please do not incline forward anymore to force acceleration to prevent injuries. When electric unicycle scooter sideways more than a 45° angle, for example whenelectric unicycle scooter falls, the control system will activate side-tilt protection. The machine will stop running immediately to prevent injuries. The buzzer will sound off a long buzz and the LED will flicker when this is activated. To deactivate this, turn the power off, then restart.
Plug in the power source after inserting the charger plug, or else the charger will not activate. This can also prevent potential risks, to ensure a safer charge. Electric unicycle scooter provides a high-power charger. During normal conditions, only 45 mins is needed to be fully charged, 30mins allows 80% charged.
The red light on the charger indicates charging, green indicates charging complete. If not in urgent need, please wait until charging complete before unplugging, because after charging, the protection circuit will perform power flow equilibrium.
Please store the electric unicycle scooter in a dry place. If left unused, recharge the battery every two months to maintain longevity of the battery. Use the extension inflation tube to inflate the tire.
Without the tube, you will not be able to pump air into the wheel. To repair or change the inner or outer tires, open the side of the cover without the indicator lights. First, unscrew the 14 screws on the sides, then the six at the center.
Now the side cover can be opened. Give care when disassembling the connecting. 1 x Electric Balance Scooter. 1 x Charger (with UK plug). 1 x Portable auxiliary belt.
1 pair of Aviation auxiliary wheel. It is illegal to ride electric scooters on public roads, pavements, or cycle paths. They are intended only for use on private land with the owner's permission.
The real color of the item may be slightly different from the pictures shown on website caused by many factors such as brightness of your monitor and light brightness. Please allow slight manual measurement deviation for the data.