Refurbed ZIMX G2 Pro 8.5 Off Road Hoverboard Swegway with + Hoverkart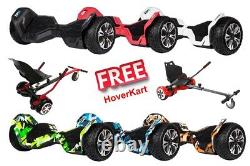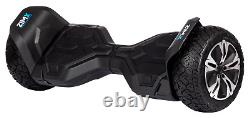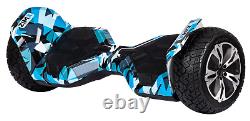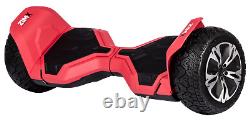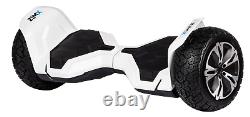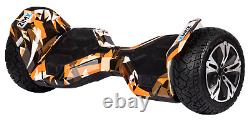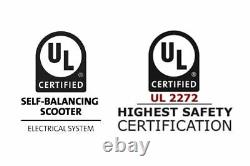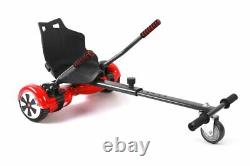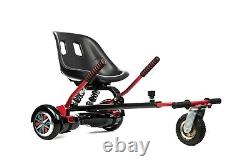 Refurbed ZIMX G2 Pro Swegway/Hoverboard with. NO colour is available for the swegway or kart, as there are not many left.
So we will send a bundle on what is available at time of ordering. Get ready for a Surprise! THESE PRODUCTS ARE USED AND HAS BEEN REFURBISHED. SOME PRODUCTS MAY SHOW SIGNS OF USE AND HAVE SOME MARKS ON THEM.
ZIMX G2 Pro Off Road Hoverboard, Swegway + Hoverkart. Imagine an off road / all terrain hoverboard so unique, so well designed, so ingenious that its not bound by the same constraints of other hoverboards. A true master of its domain, the G2 Pro off-road hoverboard by ZIMX is the best all-terrain hoverboard, and is reserved only for the elite. Whether you are gliding down a dirt road, blasting through the sand, cruising near the water on a beach, or ploughing through the fresh snow outside, the G2 Pro will give you an all-terrain experience unlike any other off-road hoverboard.
It's important to understand the distinction between the all-terrain G2 Pro and its wavering counterparts. A common misconception of an off-road hoverboard is that is has to have big tires, and that they must be inflatable.
While this may be the belief of many, we don't feel that this is entirely accurate. The G2 Pro has been specifically designed to NOT have air tubes in the tires. This makes for a stronger ability to manoeuvre over even the most stubborn of obstacles, such as barbed wire and glass shards. We also believe that in many cases less is more. In the case of an off-road hoverboard, having airless off-road hoverboard tires is just one less thing that can break.
Advanced Technology and Fantastic Features. What we love about the ZIMX G2 Pro is the bundle of amazing and innovative features that it brings to the market. This means that you can choose a hoverboard that has all the latest things you want, plus more that you didn't realize that you needed. The light weight but yet strong ALUMINIUM casing is the icing on the cake, built to last. If you are new to using hoverboards and need a bit of help getting started, you will be pleased to hear that the ZIMX G2 Pro has self-balancing technology. In the self-balancing mode, you can get your balance and feel comfortable for your ride in less than one minute. This is a fantastic feature for beginners and gives you the confidence to get out exploring on your hoverboard. With two 350 watts electric motors, the ZIMX G2 Pro is ready to go!
This hoverboard can climb angles of up to 30 degrees, which means that you can ride over steep curves with ease. Combined with its lightweight design, the hoverboard sure packs a punch compared to its competitors and has excellent mobility for an off-road model. Speeds up to 9.95 Miles Per Hour. The capabilities of the ZIMX G2 Pro Hoverboard mean that you can live life in the fast lane. Well, what we mean is that this model offers excellent speed for an off-road hoverboard, especially when you consider the price.
Whether you want to ride out with your friends or head to the park, the ZIMX G2 Pro can take a maximum load of 265 pounds / 120 Kg and still offers 9.95 miles per hour. We think that is pretty cool.
Do you love to listen to music on the go? Well, now you can do that with the Bluetooth speaker that is featured in your ZIMX G2 Pro Hoverboard.
While you are riding, you can blast the latest tunes from the Pro 4.0 Bluetooth Speaker, which is connected and controlled by your smartphone device. Whether you are riding along with friends or just riding around the park, this is a favourite feature that makes riding a lot more fun. Bluetooth speakers are trending when it comes to hoverboards and you certainly don't miss out with the G2 Pro.
Go the Distance with ZIMX G2 Pro. We all want a hoverboard that can actually take you places and this is precisely what.
As you already know, you can enjoy speeds of up to 9.95 miles per hour, which is at the high end of the scale for off-road hoverboards. Also, the driving range and how far you can get on one charge is pretty impressive.
Up to 9.5 Miles Per Charge. Hoverboard offers a riding range of up to. While this is not as much as some other more expensive hoverboards offering 12 miles, it is still a pretty good distance for one charge. Uses Samsung battery cells, which are of the best ones that you can get. The charging time is only 2.5 hours on average from low/dead batteries, which means you can get back to riding in no time since some models take a lot longer than that. Weighs in at 14kg, which is not the lightest hoverboard on the market but it indeed isn't the heaviest either. You have to bear in mind that being one of the strongest hoverboards in the world comes with a price and in this case, it does make it slightly chunkier and more cumbersome to carry.
You have to weigh out the advantages of having solid rubber tires and durable construction? You are exposed outdoors when you are on a hoverboard, and with more and more children wanting to use this cool gadget to have fun, safety is more important than ever.
The good news is that the. Hoverboard is built for all ages to enjoy and this means that you have nothing to worry about when it comes to safety.
Now you can have peace of mind and concentrate on having fun! The great thing about the. Is that is has been thoroughly tested before its release and it has passed all of the electrical and safety tests to achieve the UL 2272 certification.
With this certification from the global safety science organization, you can know that you are in safe hands. It has been checked for fire hazards and issues with charging and deemed safe to use.
Built in a state-of-the-art facility, every detail of this hoverboard took into consideration the vast variety of environments that this hoverboard would be ridden in, and from these think tanks, a true all-terrain hoverboard was born. The ZIMX G2 Pro Can Handle.
As if the list above wasn't enough, start thinking about the first place you're going to ride your professionally engineered G2 Pro hoverboard. You can be rest assured that you're getting the very best batteries in the G2 Pro. There are few choices to power this beast of a hoverboard other than Samsung battery cells, so that is exactly what's inside of the G2 Pro.
Known for reliability and safety, the design of the new Samsung battery cells is made in such a way that this off-road hoverboard won't let you down while you're riding it. With all safety concerns taken into account from past experiences, we have added an additional feature by placing the whole battery into a fire-proof housing. "ZIMX G2 Pro" The Best All Terrain Off Road Hoverboard.
This is especially true if you're new to hoverboards and are just learning how they work and the vast differences in quality between brands. We are glad you're here reading about our G2 Pro off-road hoverboard. Speeds up to 9.95 MPH.
Has a driving range of up to 10 miles. Thoroughly tested and extremely safe. Tyre size : 8.5 Inches. Motor : x2 350W Powerful Motors. Charger : UL Certified with a BSI 1363 UK 3 pin plug. Charge time : 2.5 to 3 Hours. Battery : Samsung Lithium-ion 36v, 4.4AH, 144Wh, 20 Cells Pack. UL-2272 : Fully Certified Hoverboard, Highest Hoverboard Safety Standard. COMES WITH THE FOLLOWING PACKAGE BELOW.
UK 3 Pin Fused UL Certified Charger. Free Carry Bag (subject to availability). Free HoverKart model HK4 or HK5. We recommend you wear appropriate.
Gear before using this product, such as a helmet, arm pads, knee pads. All sizes / weights / speeds are approximate. We advises and recommends that a Silicon cover is used to protect the outer casing of your hoverboard whilst using any kart attachment. We can take no responsibility for any aesthetic damage caused to your hoverboard/swegway if a protective silicon cover is not used.
Warning: It is illegal to ride electric scooters on public roads, pavements, or cycle paths. They are intended only for use on private land with the owner's permission. This item is in the category "Sporting Goods\Scooters\Electric Scooters". The seller is "zimx-uk" and is located in this country: GB. This item can be shipped to United Kingdom.
Modified Item: No
Colour: various
Country/Region of Manufacture: China
Custom Bundle: Yes
Scooter Type: Electric Scooters
Weight Capacity: 130 kg
Battery Life (Top Range): 10 to 12 miles
Charge Time: 2 - 3 hrs
Top Speed: 9.95 mph
Type: Self Balancing Scooter
MPN: G2 + Hoverkart
Brand: ZIMX
Suitable For: Children and Adults
Bundle Description: Swegway + HoverKart