OSPREY 16 Inch Electric Kids Balance Bike 36V Lithium Battery Power 2023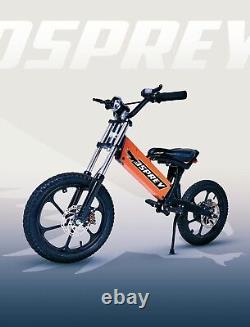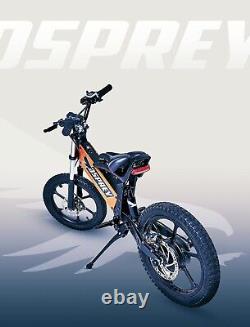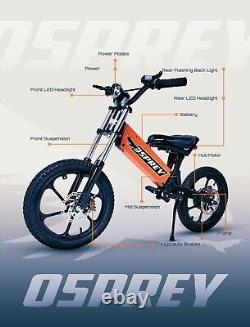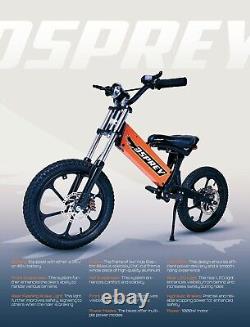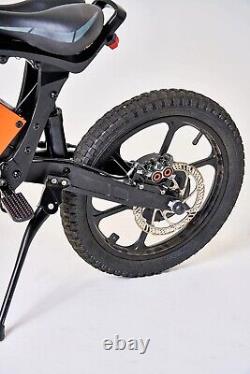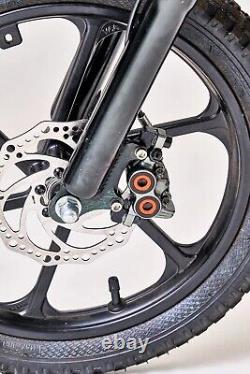 Frame: The frame of our Kids Electric Bikes is specially CNC cut from a whole piece of high-quality aluminum, ensuring exceptional durability, strength, and longevity. This meticulously crafted frame provides a solid and robust foundation for young riders, adding an extra layer of reliability to their riding experience. Battery: Equipped with either a 36V or 48V battery, our Kids Electric Bikes provide reliable power for extended riding sessions. Power: With a robust 1000W motor, these bikes offer impressive acceleration and performance suitable for young riders. Mid Suspension: The inclusion of a mid suspension system enhances comfort and stability, absorbing bumps and uneven terrain for a more enjoyable ride.
Front Suspension: A front suspension system further enhances the bike's ability to handle various terrains, providing a smoother and more controlled ride for young riders. Front LED Headlight: Equipped with a front LED headlight, our Kids Electric Bikes improve visibility and ensure safer rides, especially in low-light conditions. Rear LED Light: Integrated into the bike's design, the rear LED light enhances visibility from behind and increases safety during rides. Rear Flashing Brake Light: The presence of a flashing brake light on the rear further improves safety, signaling to others when the rider is braking. Hydraulic Brakes: Our Kids Electric Bikes are equipped with hydraulic brakes, offering precise and reliable stopping power for enhanced safety. Power Modes: The bikes offer multiple power modes to cater to different riding preferences and skill levels. They include a mode that limits the speed to 15mph, ideal for beginners, and another mode with the limiter removed, allowing speeds of up to 28mph for more experienced riders.
Browse our collection of Kids Electric Bikes today and experience the difference of a CNC-cut aluminum frame, providing exceptional durability, strength, and a solid foundation for young riders. Note - Display model has Magura Brakes, standard does not come with this but can be added if required.