Kids Electric Balance Bike RED- Bolt e-Bikes 12, 24V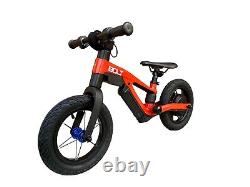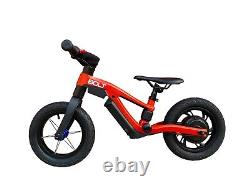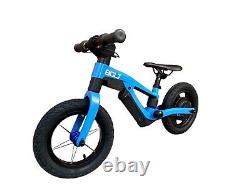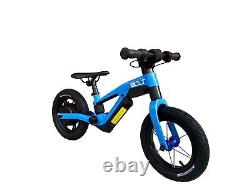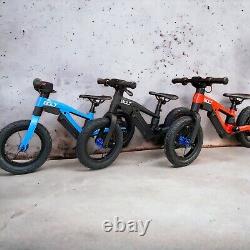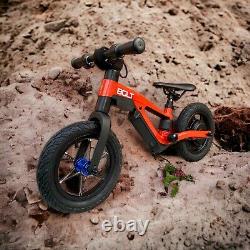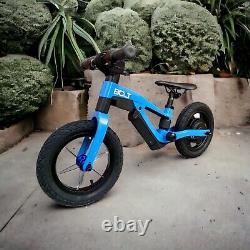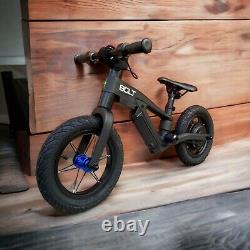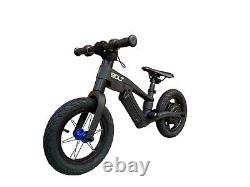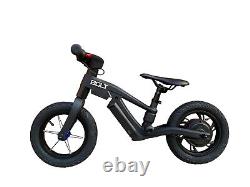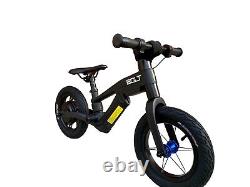 Kids Electric Balance Bike - Bolt e-Bikes 12, 24V. Bolt e-bikes Kids electric balance bike.
Here is our lightweight Electric powered balance bike that has been designed and developed for kids aged 2-5 years. Although this is a electric balance bike, it can also be used as a conventional balance bike too thanks to its specially designed free wheel system. THEN WATCH THE RIDER IMPROVE AND PROGRESS ONTO THE SLOW SPEED SETTING (5mph)BALANCING ON THEIR OWN USING THE FOOT PEGS PERFECTING THEIR THROTTLE CONTROL. ONCE THEY ARE CONFIDENT USING THE SLOW SPEED SETTING THEY CAN THEN PROGRESS TO THE FAST SPEED SETTING (10mph) FEATURES HYBRID RUBBER AIR FILLED TYRES SUITABLE FOR VARIOUS GROUND TYPES & A HUB MOTOR THAT DELIVERS RELIABLE PERFORMANCE.
Frame Material - Magnesium Alloy With Suspension. Packaging Size - 80.5x19x37cm. Suitable Age - 2-5 Years depending on riding ability.
Charge Time - 2-3 Hours. Battery - 24v Lithium Battery. Motor Power Type - 24v, 150w, Brushless Motor. Wheel - 12 Pneumatic - Tyre Wheel. Colours - Black, Blue & Red.
When purchasing this item you are purchasing 1 item.