Hoverboard Bluetooth Self-Balancing Electric Scooters LED Hover 2Wheels Board-UK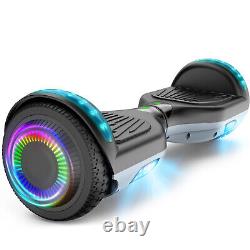 Battery Type: Lithium high-rate 5C battery. Weight-bearing: 44lb to 132 lb. Max Climbing Angle: 10-15 Degree. Wheel size: 6.5 Tire. Net Weight: 20 lb/ 9 Kg.
1 x 6.5 Hoverboard. 1 x Power Supply Charger. Recommend to refer User Manual before use your hoverboard. Do not use other battery charger to charge this hover board. Please wear helmets and safety pads before riding the self balancing scooter, children under 8 years old need to be accompanied by an adult.
Not recommended for rainy days. 5 After the hoverboard is received, please consumed power first then take charge. Your hoverboard will extend the life of the battery. How to Connect Bluetooth of Your Hoverboard.
Then you can open the music app and enjoy music. How to reset the Hover Board.
First of all:Ensure the board is turned off and make sure that both sides of the boards are on a level surface. If just one green light is illuminated and the other is showing red then it needs rebalancing. It is very important that you need to turn off the hoverboard before you reset it. Then, Press and hold the power switch for 15-20 seconds until the indicator light is red, the scooter enter the calibration state. Press the power switch to turn off the scooter.
Wait 5 seconds, then press the power switch to turn on the scooter. It is illegal to ride electric scooters on public roads, pavements, or cycle paths. They are intended only for use on private land with the owner's permission.