6.5 Electric Scooters Bluetooth Hoverboard for kids Hover Scooter Balance Board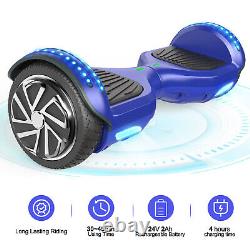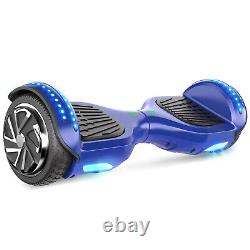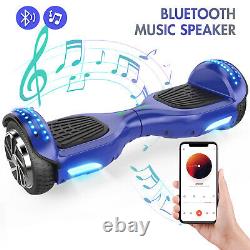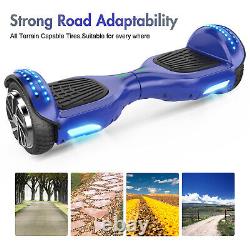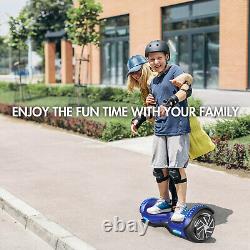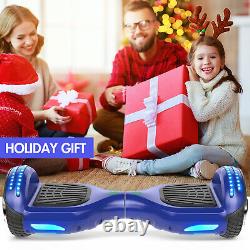 Motor: Dual Hub Motors Battery Type: Lithium high-rate 5C battery Charging Time: 3-5 Hours Using Time: 30-60 Minutes Riding Range: 6 Miles Weight-bearing: 44lb to 132 lb Max Climbing Angle: 10-15 Degree Wheel size: 6.5 Tire Net Weight: 20 lb/ 9 Kg Package Included: 1 x 6.5 Hoverboard 1 x Power Supply Charger? Safest Self Balancing Scooter: All hoverboards certified to European standards. Passed all the necessary UL 2272/CE/ ROHS /FCC certified, which can ensure rider's safety.
Perfect Design: Sturdy solid tires, strong shell and sturdy structure, make the hoverboard stable and durable. Our none-slip foot-pad is thicker and more durable.
It will give you better stability and traction experience while riding. Easy To Control: The Hoverboard specially designed for the beginners & amateurs, easy to learn and maintain balance.
It can go straight, make a turn and rotate for 360 degrees locally, and be operated at will! Recommend to refer User Manual before use your hoverboard. Do not use other battery charger to charge this hover board. Please wear helmets and safety pads before riding the self balancing scooter, children under 8 years old need to be accompanied by an adult.
Not recommended for rainy days. 5 After the hoverboard is received, please consumed power first then take charge. Your hoverboard will extend the life of the battery. How to reset the Hover Board : - First of all:Ensure the board is turned off and make sure that both sides of the boards are on a level surface.
If just one green light is illuminated and the other is showing red then it needs rebalancing. It is very important that you need to turn off the hoverboard before you reset it.
Then, Press and hold the power switch for 15-20 seconds until the indicator light is red, the scooter enter the calibration state. Press the power switch to turn off the scooter. Wait 5 seconds, then press the power switch to turn on the scooter.
1 Before using, please ensure that both sides of the scooter are at the same horizontal level; and only when the indicator light is green you can step on it and begin to use. If the signal light is red, please restart it and make sure whether the both sides are at the same level and indicator light turns green then use it. 2 Attention for Charging When the scooter is being charged, the indicator light on the charger is red. If the light turns green, it means the charging is finished.
Charging time last about 2 hours. To prolong the battery life and ensure the safety, a long time continuous charging should be avoided. 3 To ensure your safety in use, we recommend the use of safety protection equipment, such as helmet, elbow pads, knee pads and etc. Please observe the local law when using.
Warning: It is illegal to ride electric scooters on public roads, pavements, or cycle paths. They are intended only for use on private land with the owner's permission.