250w REVVI 16 Inch Electric Balance Bike 24V Lithium Battery Power Offroad Bike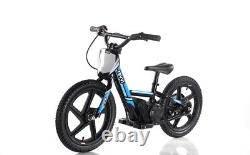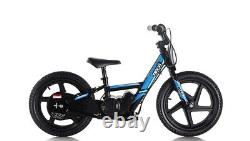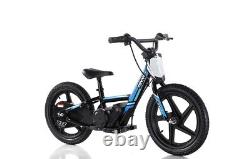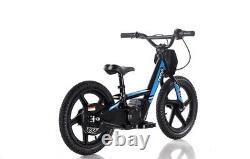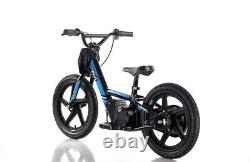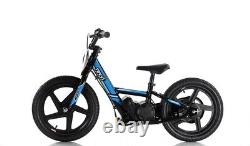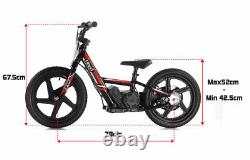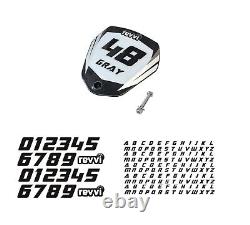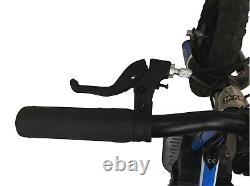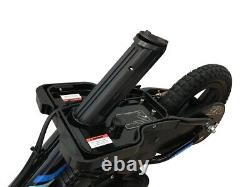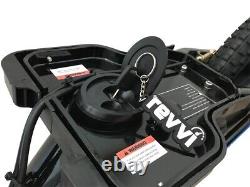 NEW 250w - 16KID'S ELECTRIC BALANCE BIKE. METAL FRAME AND RUBBER TYRES. A super light electric-powered motor bike that has been specifically designed for kids, Weighing in at only 11kg's.
The bike can be used as a conventional balance bike when learning to balance with its specially designed free wheel system. Then watch the rider improve and progress onto the slow speed setting (8mph) balancing on their own using the foot pegs. Perfecting their throttle control at the same time using the bikes twist throttle. Once they are confident using the slow speed setting they can then progress to the fast speed setting (12mph). Features hybrid rubber air filled tyres suitable for various ground types & a chain-driven motor that delivers reliable performance.
5 Years + Max rider weight 50kg. Removable battery that can be changed in 20 seconds! Each battery has a built in charging port, it can be charged in the bike or away from it. Large rubber air filled hybrid tyres suitable for on and off road use.
Battery range: Slow speed - Approx 1h 15mins constant use. Fast speed - Approx 40mins constant use. Please note battery range will vary depending on the speed setting, rider weight and riding conditions. Two speed settings: Slow speed - Approx 8mph. Fast speed - Approx 12mph.
Please note speeds stated may vary depending on riding conditions and rider weight. Charge time: 5.5 - 6 hours. Twist and go throttle with battery level display. Specially designed brake lever for kids with rear drum brake.
Aluminium foot pegs with plastic cover for grip. External charge port for easy charging without battery removal. Specially designed rear wheel with free wheels system, this allows the bike to be used as a conventional balance bike with out the power. Please see terms and conditions for more info. Number and Name Board Kit.
Included with every bike so you can customize your Revvi bike with race number and rider name. 1 x Black plastics race number board 1 x Graphic to cover the number board 1 x Sheet of letters to apply your name 1 x Sheet of numbers to apply your number 1 x Bolt for fitment. Available in the following colours. Bikes are delivered fully assembled minus the front wheel and handlebars. This is just 5 bolts and very straight forward.
Please see owners manual for more information. All of the controls i. E throttle and brake lever are already fitted to the handlebars.
Each bike comes with a UK charger, owners manual and tool kit.